Hello.
It looks like you're new here. If you want to get involved, click one of these buttons!
Quick Links
"The April rain, the April rain,
Comes slanting down in fitful showers,
Then from the furrow shoots the grain,
And banks are fledged with nestling flowers;
And in grey shawl and woodland bowers
The cuckoo through the April rain
Calls once again."

Mathilde Blind, April Rain
When you first apply to join the forum, you will have to wait a while to be approved. Just be patient.

Once you are a member, don't forget to check the calendar(s) for session times. Sessions are held on different platforms, so be sure to find out where the session will take place:-

Speaking Practice

LEN English sessions:-


Listening Practice 24/7

English radio playlists on Discord.


Iguana chased by snakes - Planet Earth II: Islands - BBC One
Here is a lovely video about a chasing of an Iguana by snakes.
I wrote a transcription, -with a lot of
@Lynne
's corrections of course- telling the story about what happened with the iguana.
I hope you'll like it.
I recommend to watch the video first and then read along the transcription.
Thanks.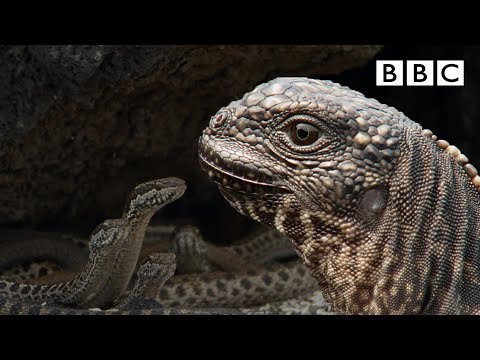 Once upon a time, in a very rocky area, there lived a family of snakes. There were dozens of them in the family. With their several meter long limbless bodies, and their conspicuous scales, they held absolute sway.

The other animals knew they had better keep their distance if they didn't want to be caught and swallowed alive by the snakes, but one day, an iguana hatchling got lost during its morning promenade and ended up near that lair. "Oh my God!" he thought. "What have I done? What a disaster!" "Okay. Think! Think! Plan A: don't move! Plan B? Don't move! The little iguana lay motionless and very quiet. Even when he heard something behind him, he didn't dare look back until he felt something touch his tail!

Oh dear, a snake had found him! Run little Iguana run!

"Oh no," he thought, "They're chasing me! Hundreds of them!"

The little iguana ran as fast as he could, all the while being chased by the whole snake family.

"Ooops, catch me if you can! Bye!"

From time to time he almost escaped from their clutches .... until ..... "Oh no, he got me! I'm dead meat now! Help! Mummy!!!" A snake caught him and the others joined in.

Together they surrounded the hatchling. "Oh my God, this isn't fair! They're strangling me with their long slippery bodies. What can I do? Think! Think! Let me go! Leave me alone!"

The little iguana didn't give up; he wormed and wriggled and scrabbled, until suddenly .... "Hey, I'm free! It's a miracle! Run!!!"

The snakes were mad and upset and started to chase him again.

"I'm smarter.... you can't catch me..."

The little iguana headed towards a rocky hill, still with the snakes behind him. "Why don't you give up, you rotten snakes! Why don't you let me go? I'm only a little iguana."

They came to a place where there were a lot of gaps between the rocks. "Okay, see if you can get me on the other side of this crevice. And this one." The little iguana sprang and sprang again.

Of course the snakes couldn't get over the crevices and fell between the gaps.

"Yay, you lose! I win!"

"Ooh, that was sooo close! Hey, where am I now? Am I ... ?" The little iguana looked around, recognized the place and saw a familiar face.

"Hi mum, I'm back!"