Hello.
It looks like you're new here. If you want to get involved, click one of these buttons!
Quick Links
"Still lie the sheltering snows, undimmed and white;
And reigns the winter's pregnant silence still;
No sign of spring, save that the catkins fill,
And willow stems grow daily red and bright.
These are days when ancients held a rite
Of expiation for the old year's ill,
And prayer to purify the new year's will."
Helen Hunt Jackson, A Calendar of Sonnet's: February
Famous photos: The Kissing Sailor
George Mendonsa, the sailor who was captured in a famous photograph where he was kissing a woman in Times Square in the celebrations of the end of the second world war, has died at the age of 95.
The photograph by Alfred Eisenstaedt was published in Life magazine and became one of the most famous images of the 20th century.
The kissing couple were complete strangers. Greta Friedman, a dental assistant who was at the time wearing her nurse's uniform was grabbed out of blue. She said, "It wasn't my choice to be kissed. The guy just came over and kissed."
In fact his date was there too and can be seen in seen in the background of the photo. She said she didn't mind that he locked lips with another woman amid the celebration. She even became his wife of seven decades. She told how he would sometimes repeat the performance. "It'll come up that he's 'The Kissing Sailor'. So the kissing sailor has to think he has to kiss everybody. So he does!"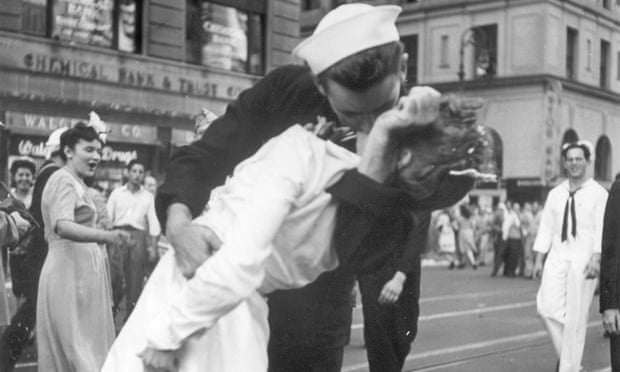 Tagged: