Given that maybe a third of the world's population is now being urged to stay at home, many more people are having to work from home. Some of us are used to this or have work that lends itself easily to not having to work in an office, but how do you cope?
Here are some articles you might find interesting to read on the subject.
Suddenly working at home - we've done it for 22 years and have advice
- Your office needs to have a view
- Have an exercise and activity routine
- Have a default activity for when you need a break from work (I make a cup of tea :-) )
- Have a physically separate workspace
https://arstechnica.com/staff/2020/03/suddenly-working-at-home-weve-done-it-for-22-years-and-have-advice/
5 Tools You Need to Become Remote-Work-Ready
Before installing anything, align on communication:
- How to communicate
- What to communicate
Remote-ready tools
https://monday.com/blog/remote-work/5-tools-you-need-to-be-remote-work-ready-2/?utm_source=mb&utm_campaign=pocket_wfh_email_0320
The Tech Headaches of Working From Home and How to Remedy Them
From shoddy Wi-Fi to digital distractions, our tech can make remote work miserable. This article suggests ways to overcome the problems.
https://www.nytimes.com/2020/03/18/technology/personaltech/working-from-home-problems-solutions.html

The Two Things Killing Your Ability to Focus
It's not only the fact that you're looking at a screen for half the day, but that certainly isn't helping.
https://getpocket.com/explore/item/the-two-things-killing-your-ability-to-focus
Working from home is awesome. Here's how to excel at it
https://www.latimes.com/lifestyle/story/2020-03-13/working-from-home-is-awesome-heres-how-to-excel-at-it
So why not share your experiences here? Are you able to work effectively from home? What do you find most challenging? Or do you like it and wish never to have to work in the office again (which is very much my case)?
I think my workplace would be so much nicer though with feline company like in the picture!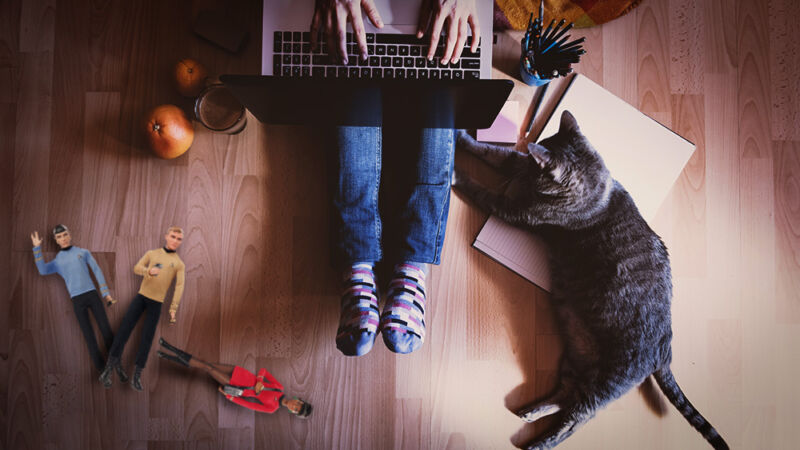 In Friday's speaking session (27 March 2020) we will be discussing this topic.